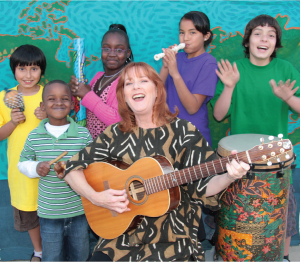 Singer, songwriter, and musician, Carrie Higgins, has focused her talents on children and family "edutainment" for the last 15 years.  Children are greatly involved i the program as they are invited to join Carrie and play instruments from around the world as well as move and sing!  Carrie creates her programs to provide not only great FUN, but to promote "whole child" learning, a love of reading, cultural pride, and non-bias global awareness.  Shows can be customized for any theme.  Carrie also provides preschool shows consisting of all music with singing, laughing, movement, and puppet – guaranteed to delight the little ones!
Programs Available:
Wonder Around the World: "Three Corners of the Earth" – K-6
Wonder Around the World: "Mysteries of the East" – K-6
Preschool Play Along – PreK
Creatures and Critters – PreK
---
Wonder Around the World
International folktales and songs come to life through Carrie's dynamic voice, skillful musicianship, props, and colorful costumes.  Audiences of all ages enjoy participating through sing-along and call and response that are woven throughout the "wondertales."   Children all thrill at playing many instruments from around the world – guaranteed to bring spontaneity, fun, and laughter.  It's your passport to adventure!  There are two shows available, but you can also customize a collection of folktales and songs.  Choose between:
Three Corners of the Earth
Songs and wondertales of Mexico, China, and Africa!  Hola! Ni Hao! Jambo!  A small brown toad in Mexico, a boy and a magic flute in China, and a little girl in Kenya saves the day in this delightful program spanning three continents.
Mysteries of the East
Korea, India, and Persia – The spice, the surprise, the fun!  This program is as colorful and intricately woven as a Persian run.  Find out why the dog and cat still argue in Korea, what strange animal the six blind men of India finally get to "see," and who has the "mightiest power of all" in the song/story from Persia.
Preschool Play Along
This program is full of interactive songs sure to promote wiggling, giggling, shaking and singing!  Lots of movements and dance with some puppets equal fun, fun, fun!
Creatures and Critters
Bugs and frogs to dinosaurs and dogs.  Carrie delightfully engages preschoolers in movement, singing, and dancing with a little help from her adorable puppet friends.